Hi everyone bought the game a week before and i am kinda disappointed too.
of course i realise it's still beta but i believe This game could be legendary.
have anyone played Scribblenauts Unlimited, the game is really Great because you can edit or create anything you like anytime you like! (items,Npc,weapons,vehicles,buildings,clothes,)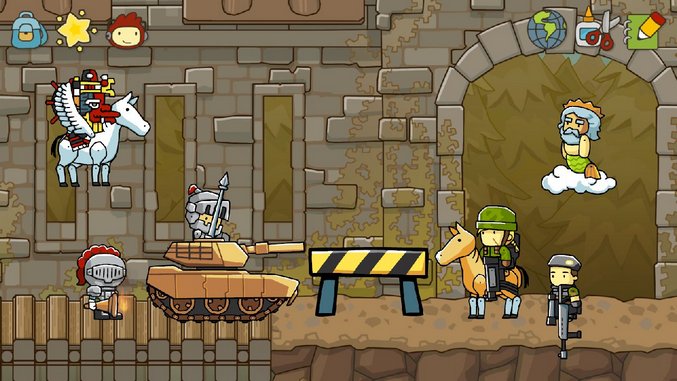 why not make Lootfest live Design kinda like Scribblenauts Unlimited ;)
imagine an epic battle between npcs in your custom world with your custom Npcs and weapons.
you should really give the ultimate control to the player to create as much zombies as he wants and anything else he likes with no restrictions.( i really don't understand why not put all the monsters of lootfest to lootfest live design)
Gameplay ideas
1)when i hit a zombie a number of the damage should come out, this will help me understand which weapon do the best damage to certain monsters, like most RPG games skeletons are resist to piercing attacks but they are vulnerable to crushing attacks or the difference between new and old weapons.
2)how about a siege mod
catapults with cubedestroying rocks ,siege towers ,siege rams ,good Npcs!
it will be like a survival mode with a repair time till the next wave.
3)a play as option
i would like to play as a monster hunting the other playing like a giant troll or a barbarian
the game should be more freely.
thanks for reading my ideas ,sorry if some of the ideas are already mentioned and for my bad English

onewayshot

Grass





Posts

: 2


Points

: 4490


Join date

: 2013-02-27



Not bad ideas at all. All games must have limits or you could just spam monsters until the game crashes. If you think about it Lootfest1 is a 2D game without network, Live Design is in 3D (monsters can move up/down) an everything is net synched - which makes the monster unusable.
~~~~~
Lootfest Creator,
Dev Blog & Contact info
(I do not moderate this forum, leave your forum requests to the other mods)

Fabian Viking

Developer





Posts

: 157


Points

: 5728


Join date

: 2011-10-26



Thanks for the reply, am

very happy

to read from you, keep the great work i cant wait to see lootfest 2 or new updates


onewayshot

Grass





Posts

: 2


Points

: 4490


Join date

: 2013-02-27





Similar topics
---
Permissions in this forum:
You
cannot
reply to topics in this forum